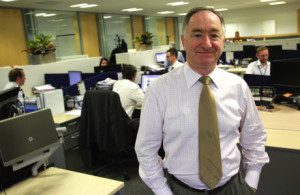 ROBERTSON Group has reported record pre-tax profits of £34.6 million, with group turnover up by 13% and construction sales up 21%.
Turnover rose to £261.3 million in the year to March 2014 while construction revenue was £193.5 million.
Staff numbers increased by 8% and Robertson Facilities Management delivered a 22% rise in turnover and record profit of £2.7 million.
Bill Robertson, chairman of Robertson Group, said, "There are 14 operating businesses in the Group. At the trading level, they produced a gross profit of £18.6m. At profit before tax level, we delivered £34.6m. Included in this are profits generated from the sale of maturing investments which were sold during the year, but also the effects of further land impairments.
"Releasing profits in the business through the sale of investments has allowed these profits to flow onto the balance sheet of the business which is now increased to £63.3m.
"We are on year four of our five year strategic plan which would see us grow through the creation and development of regional businesses replicating our current Group model but also broadening our product range.
"It had been our intention to float the business in the near future. However, the timing of that will be determined by the achievement of long term sustainable higher profitability.
"The Robertson construction companies delivered a positive trading performance in a challenging economic environment with profits increasing by 11% on last year and comparing well to its market peers.
"The business has been strengthened through development of our in-house capabilities for civil engineering and building services.
"Our major projects division has successfully secured 'Preferred Contractor' status on the £100m distillery and visitor centre development for The Macallan. This prestigious project follows on from our successful completion of the £90m Emergency Care Centre in Aberdeen for NHS Grampian.
"We are delighted to report that our current construction order book sits at £402m, which is a 52% increase on the same period last year."