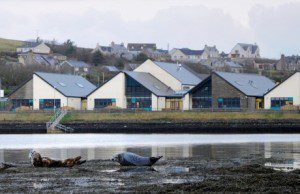 STROMNESS Primary School has been nominated for the 'Civic Building of the Year 2014' award at the upcoming SCALA (Society of Chief Architects of Local Authorities) Awards in November.
Constructed by Inverness-based Morrison Construction, the SPS project in Orkney was formally handed over to Orkney Islands Council (OIC) in December 2012 following the completion of the construction phase in time for the new school term in January 2013.    
Commenting on the nomination, OIC Councillor Janice Annal said, "It's great that Stromness Primary has been nominated for such a prestigious award.  We are delighted with the school, both aesthetically and practically, and to be one of just three buildings nominated in Scotland is a fantastic achievement in itself.  We are eagerly anticipating a positive outcome when the awards are announced in the autumn."
The new SPS is a building which reflects the townscape of Stromness and replicates the architecture of the area.  Materials used included natural stone and high quality render which are able to withstand the harsh climate.  It is an example of how attractive and innovative solutions can be found to resolve the challenges faced by public architecture. 
Morrison Construction Regional Director Donald Mclachlan, said, "We are delighted the school has been shortlisted for this award. This is a very attractive building and it is great to see it being used by the local community. The objective of the awards is to promote the construction of high quality public buildings and formally honour excellence in design and construction, so it is a great honour to be announced as a finalist and is a testament to the quality of educational facilities that Morrison Construction is delivering the length and breadth of the country."