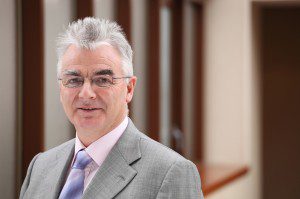 MORAY and Larbert-based Springfield Properties added a further trophy to their awards cabinet with the presentation of Scottish Chamber of Commerce Business of the Year award.
In its inaugural awards, the Scottish Chambers selected the homebuilder for innovation, entrepreneurship and commitment to Scotland.
Building in excess of 500 homes this year on 30 plus developments across the country, owner Sandy Adam has based the firm's business model on looking after customers. He said, "We give our customers what they want – individuality and value for money. And we employ the best people who build long term relationships with our customers, suppliers and partners. This way we reach our key business objective – happy customers who say good things about us. It is this ethos which has made Springfield a success."
Springfield introduced its popular Choice programme, which enables customers to tailor their home before build, across the Central Belt of Scotland in 2012. As a result the homebuilder has seen a 45% increase in sales, at a time where the industry average was 8%.
Springfield works closely with local councils and housing associations and completed its 1000th affordable home earlier this year. The homebuilder which employs nearly 400 people continues to invest in their staff. 86 new staff members including eight new apprentices have been appointed this year alone.
Springfield currently has a number of live developments across the country from Moray to Edinburgh, and Lenzie to Kilwinning.