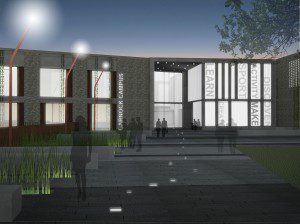 HUB South West Scotland has appointed Kier Construction to deliver a £40m project which will see the creation of a new education campus in the Garnock Valley on behalf of North Ayrshire Council.

The £40m design, build finance and maintain (DBFM) campus will attract revenue support from the Scottish Futures Trust (SFT) as part of the Scottish Government's 'Scotland's Schools for the Future' Phase 3 programme.
The campus, which will relocate and merge Garnock Academy and Glengarnock Primary school on a greenfield site in Glengarnock, will cater for 1,500 students – 1,200 secondary and 300 primary. Due for completion in late 2016, the site will also provide community facilities such as a six-lane 25m swimming pool and fitness suite.
Managing director of Kier Construction's Scotland & north-east England business, Brian McQuade, said, "We are delighted to have been appointed to construct this key educational and community facility for North Ayrshire Council, and the people of the Garnock Valley. Now that planning permission has been granted, the dream of a state-of-the-art campus, which will provide first-class facilities for everyone who lives and works in the area, is now one step closer to reality.
"We will be working closely with North Ayrshire Council and the Garnock Valley communities to construct a campus that will inspire future generations. This is a significant investment into the local economy and we look forward to working in the area to provide additional employment opportunities, including apprenticeships, for locally based suppliers and subcontractors."
Michael McBrearty, general manager of hub South West Scotland, added, "Hub South West is a public private partnership which enables the cost efficient design and construction of community facilities, including schools, health centres and care homes, within the south-west region of Scotland. Garnock Academy will be a flagship project generating growth, maximising local investment and creating local opportunities for training, learning and further education.
"We selected Kier Construction as they are a national business who have committed to delivering local economic growth and regeneration opportunities for the benefit of the local economy."