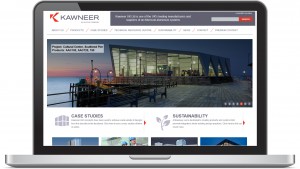 ARCHITECTURAL aluminium systems supplier Kawneer has relaunched its website to make it more intuitive for users.
As well as a new look, navigation has been streamlined to make it more user friendly regardless of whether visitors are using a PC, laptop, tablet or smart phone.
One of the new features is the ability within the "My Products" section for the user to bookmark individual products so they appear in a personalised fast-access list in the site's navigation bar. Other new features include a blog and quick links to enable visitors to instantly access technical specifications, CAD files and BIM models (where applicable) at individual product level.
Kawneer's sales and marketing director Mark Clemson said, "The new site gives us the right foundation to better serve our users who depend on us to help find solutions for all their architectural aluminium needs. This redesign was a significant initiative, just one of our key initiatives for 2014, and represents a big step in our journey to lead the industry by leveraging technology to further differentiate ourselves in the marketplace."