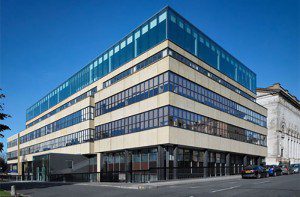 LYSANDER Student Properties Limited, a joint venture between Kier Property and Amber Infrastructure Limited, has appointed Kier Construction to carry out a £10m redevelopment of Clifton House and Stewart House into high quality student accommodation.

Both properties are located in Glasgow's west end with easy access to the University of Glasgow and city centre. Clifton House is located on Clifton Place and Stewart House is located on Elderslie Street. Work has just begun and will be complete in time for the 2015/16 student intake.
Clifton House will provide a total of 213 bed spaces comprising 142 single bed flats with en suite bathrooms and communal kitchen accommodation; 71 studio flats with en suite bathrooms and kitchen; landscaped amenity areas; gym facilities; laundry facilities and quiet common areas on each floor.
Stewart House will provide 51 studio flats with en suite bathrooms and kitchen; laundry facilities; quiet common areas and a landscaped courtyard to the rear.
Brian McQuade, managing director of Kier Construction's Scotland and north-east England business, said, "This project is a fantastic opportunity for us to build on the expertise that we are developing in this sector, having completed several such developments in the last few years, including, most recently, the project in Dumbarton Road in Glasgow's Partick district. It will allow us to strengthen our relationship with local suppliers and contractors and is further evidence of Kier's commitment to Glasgow and the west of Scotland."