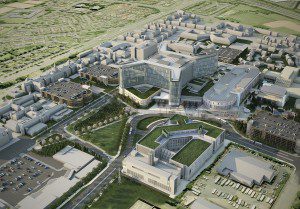 THE International consultant IBI Group has announced it is to consolidate its brands in the UK. As of September 2014, IBI Nightingale and IBI Taylor Young will trade as IBI Group.
IBI Group, a global architecture, planning, engineering, and technology firm first launched its UK transport and systems business in 1996. As part of its diversification strategy it acquired architects Nightingale in 2010 and multidisciplinary practice Taylor Young in 2012.
 "The rebrand is a natural and important evolution," said Stephen Gleave, Principal.  "Being known by one name has many operational benefits. For clients it helps to simplify our business and for staff it creates a feeling of unity."
Celebrating its 40th anniversary, IBI Group has launched a global rebranding initiative, 'Defining the Cities of Tomorrow'. Drawing on the initials IBI, this has led to the re-organisation of its expertise into three areas: Intelligence, Buildings and Infrastructure.
Graeme Scott, IBI Group Director said, "Our united identity will motivate staff to share skills and knowledge ensuring that we provide more intelligent, smarter and innovative solutions."
In the UK, IBI Group has an impressive portfolio across sectors: regeneration, healthcare, education, science, transportation, systems, residential, justice, and commercial. Projects include systems development and traveller information for Commonwealth Games 2014 and London 2012 Olympics, the design of the £840m New South Glasgow Hospital, and Cardiff University's Hadyn Ellis Building.
"We have an excellent reputation for design and service quality in each sector," added Paul Hewes, Principal. "As IBI Group we deliver more holistic services, fusing the elements of technology and architecture to ensure clients achieve more from their projects."