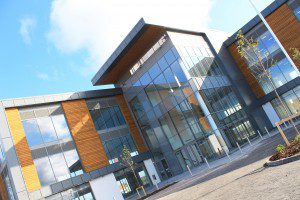 40,000sq ft of high specification office space is ready for immediate occupation at Aberdeen's Balmoral Business Park on the south side of the city and is on the market as a single or multi-let option.
The first office pavilion on the business park which overlooks Loirston Loch has been handed over to the developer Balmoral Park Ltd.
Landscaping of the park has been carefully planned as the development occupies a prominent and highly visible site at the key southern entrance to the city. Car parking has been maximised to offer 131 spaces exclusively for the pavilion.
Office space flexibility was a priority when the building was being designed by architects Halliday Fraser Munro. This means a single tenant can enjoy complete occupation of the building or the accommodation can be split into exclusive wings or floors offering total privacy.
With the imminent AWPR lying within half a mile of the park and Aberdeen harbour less than three miles distant, the location of the development is ideal for southern access to and from the city.
Jim Milne, chairman and managing director of Balmoral Group, said, "We are delighted with the quality of the building and indeed of the landscaping across the Park. I think this is the only high end development in the city that is physically ready to move into. Our team of architects and contractors have done a terrific job in creating an exceptionally high profile landmark building on schedule and I would like to thank them for their efforts."