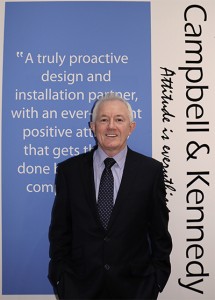 CAMPBELL & Kennedy has been nominated for Best Environmental Project, Delivery of Best Customer Service and Best Use of Training in the SELECT Industry Awards 2014.
The SELECT Awards are dedicated to recognising excellence in the industry, with categories covering a wide range of disciplines. SELECT is Scotland's trade association for the electrical industry, which endeavours to improve working standards, represent the industry to government and also provide training for future electricians.
C&K's Electrical Contracting division service all aspects of design, installation and commissioning of electrical systems and has worked with a variety of clients in the commercial, industrial and public sectors.
Gerry Kennedy, Managing Director of Campbell & Kennedy, said, "We are honoured to be nominated for the SELECT Industry Awards for a second year in a row. To be nominated in each of these three categories gives our hard working team the much deserved recognition for their efforts."
David W S Wright, Head of External Affairs at Select, added, "Campbell and Kennedy are to be congratulated on their triple nomination success. A prime objective of the SELECT Awards is to provide Member companies with additional leverage in the market place. Nominations provide that leverage and surely will help develop their business. We wish them well in their bid to achieve further success on the night of the Awards."
The winners will be announced on Friday, the 10th of October and honoured at a prestigious award ceremony in the Radisson Blu Hotel in Glasgow, where delegates from throughout the industry will attend.