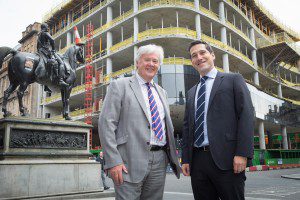 BUSINESS and financial advisory firm, Grant Thornton UK LLP, is the latest leading organisation to choose BAM Properties' Grade-A development, CONNECT110NS, as the location for its new Glasgow office.
The firm is to lease the top floor, the eighth, occupying 15,056 sq ft (1,399 sq m) of accommodation, in the building on the corner of Queen Street and Ingram Street opposite GoMa, the Gallery of Modern Art.
John Burke, Executive Director, BAM Construct UK said, "We are delighted to welcome another leading business to CONNECT11ONS. The calibre of professional businesses which are attracted to the building is a reflection of the design, infrastructure and quality of the accommodation on offer. Its central location, with a terrific bus and rail network almost on its doorstep, is a great support for staff who, I am sure, will enjoy the vibrancy and surrounding local amenities. We have already let 40% of the office space and have positive interest in the remaining floors."
The building will be handed over by BAM Construction to BAM Properties in June 2015 and Grant Thornton is scheduled to move from its existing premises at 95 Bothwell Street in November 2015.
Andrew Howie, Regional Managing Partner, Grant Thornton UK LLP added, "Our move to CONNECT11ONS development marks another milestone in our growth journey in Scotland. The firm was incredibly resilient throughout the economic downturn and is reaping the rewards as the wider Scottish economy enters a sustained period of recovery. In addition to welcoming our new Managing Partner for Scotland, Kevin Engel, to the team, the move to a state-of-the-art new home in the heart of Glasgow city centre reinforces our focus on extending our reach in the Scottish market and working with even more of the country's dynamic growth hungry businesses."
The business will join neighbours, Brodies LLP, Scotland's largest law firm, the first occupiers of the development who will be occupying the seventh floor and part of the sixth. A further 102,156sq ft of office accommodation remains for let along with 20,000 sq ft of ground floor retail space.
BAM Properties has invested £40.4 million in CONNECT110ns with a further £9.6 million loan secured from the Scottish Partnership for Regeneration (SPRUCE) Fund, established by the Scottish Government and European Regional Development Fund.  During its construction the development will support 250 jobs and 30 apprentices.