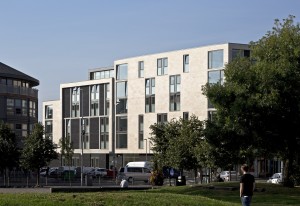 THE site of a former retail store in the heart of Glasgow's West End has been transformed into a bright, modern retail space and student residence – thanks to Alumno Developments and Kier Construction.
The £8m project, which began in April 2013 and is now complete, is home to 174 bedrooms with shared kitchen facilities. The ground floor is an open retail space with full height glazing facing Dumbarton Road near Partick Cross. The remaining five floors will be used exclusively as student accommodation, housing 174 students, with 24-hour security and an on-site warden.
The building is in the heart of Glasgow's bustling West End and within walking distance of the University of Glasgow.
Brian McQuade, managing director of Kier Construction's Scotland & north-east England business, said, "We have delivered a building – on time and within budget – which will not only provide much needed quality accommodation for students attending Glasgow's many educational facilities, but also a bright and attractive retail space, which will create jobs and help re-energise the area."
Alumno managing director, David Campbell, said, "With our partners we have delivered a highly sustainable, modern and well-designed development of high quality that combines both purpose-built student accommodation and attractive retail units at street level. It will be well managed around the clock, providing excellent on-site facilities as well as support and welfare services for students. In addition, the development is car-free, supporting local transport use and infrastructure. Kier has produced a sustainable building which embraces modern methods of construction."