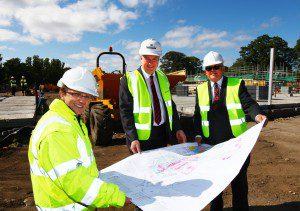 WORK is progressing well on a housing development in St Andrews which will see the first new council homes for the town in 17 years when they are complete.
The development of 29 flats at Abbey Walk will be made up of 22 two-bedroom and seven three-bedroom homes.
Councillor Judy Hamilton, the Council's Executive Spokesperson for Housing & Building Services visited the site to celebrate the £3.2m contract that has been agreed with house builder Robertson Homes. Cllr Hamilton said, "It's good to see work underway on what will be the first new council houses for St Andrews in a number of years.This is a very welcome development that will be ready to receive tenants in September next year.
"Our new properties are always allocated to existing tenants, where possible, such as those looking to downsize or a family that needs more bedrooms. This means that we can offer the vacated homes to other families on the housing list too.
"This development is an important milestone in the Council's affordable housing programme to increase the number of affordable homes for rent across Fife. The programme is making good progress towards our commitment to deliver 2,700 new homes by 2017 and St Andrews is an area of high demand with very low turnover. The area has a shortfall of over 1,000 homes for rent and I am pleased to be here today to mark this important milestone in tackling the demand."
Stewart Shearer, Director of Robertson Partnership Homes, said, "Robertson Partnership Homes is pleased to bring a variety of high quality affordable housing to help meet demand for affordable rental accommodation in St Andrews, in partnership with Fife Council.
"Developments such as Abbey Walk play an important role in sustaining the social and economic well-being of local communities such as St. Andrews. We have an ongoing commitment to provide affordable housing in the area and we hope to work very closely with Fife Council on a number of other projects."
The Abbey Walk development also received £29,000 of Scottish Government funding.