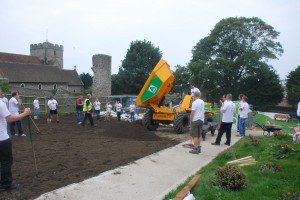 THE phrase "it's all in the planning" was never more apt than when the culmination of months of development and an entire week of on-site preparation resulted in Argent's Volunteer Day.
The project came about when, rather than having a conventional celebration to mark the end of a construction phase at Kings Cross, Phil Sullivan (Senior Projects Director at Argent) and Mick Kelly (Projects Director at BAM) decided they wanted to incorporate something with a little more longevity than a pint or two into the proceedings. 
They called upon industry charity CRASH, of which Argent is a Patron company and Director Tony Giddings a Trustee, to source an appropriate volunteering project for 70 people. The remit was to find something that would make the most of the professional skills of the Kings Cross contractors, sub-contractors and supply chain.
CRASH Projects & Resources Manager Ryan Richardson said, "It was quite a challenge to find a project that 70 volunteers with varying skills could undertake. It was also important to everyone involved that the work would prove worthwhile and create a lasting impact for a homelessness charity."
CRASH invited Argent, along with fellow Patron BAM, to visit Emmaus Brighton & Hove, a homelessness community which CRASH has been working with for a number of years.
"We had a number of projects on our wish list but no resources," explained Emmaus Brighton & Hove's Chief Exec Christine Squince.  "So when CRASH approached us with the idea of a volunteering project, we were delighted – albeit a little nervous at the thought of having to find meaningful work for so many people."
The Community decided to focus the volunteers' resources on preparing the groundwork and then seeding what will eventually become a wild flower garden and meadow for visitors to enjoy. A large room in the main shop as well as a considerable part of Emmaus by the Sea were given a much-needed coat of paint.
The 'Team' was made up of an eclectic mixture of volunteers from CRASH Patrons Argent, BAM and Aecom as well as teams from Gardiner Theobold, Allies and Morrison, David Eagle, AKT, David Chipperfield Architects, Townshend, Hargreaves, Hall & Kay, Structal, Severfield, Knight Asphalt and Willerby Landscapes.
Donations of equipment and materials came from CRASH Patrons A-Plant and Dulux Trade as well as Jewsons and Chandlers Building Supplies.