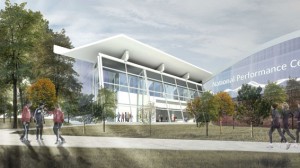 BOWMER and Kirkland has been appointed as preferred contractor to build Scotland's new National Performance Centre for Sport at Heriot-Watt's Edinburgh Campus.
The £30 million project, developed through a partnership between Heriot-Watt University, the City of Edinburgh Council and sportscotland, will include a new full size indoor 3G synthetic pitch for football and rugby, a nine-court sports hall, grass and synthetic outdoor pitches as well as a high performance wing that includes areas for hydrotherapy, strength and conditioning, rehabilitation, elite changing, office accommodation and a classroom. It will allow for grassroots development through to high performance training.
Edinburgh-based architects Reiach & Hall have created an iconic building design. A key feature of the design is the centre's roof, which is inspired by the angle and trajectory of what is recognised as one of the greatest goals in football history – Brazil's Roberto Carlos' goal against France in 1997.
Shona Robison, Cabinet Secretary for Sport, said, "The National Performance Centre for Sport will complement Scotland's existing excellent sporting facilities, and we can all be pleased with the progress of this extremely significant project. Having tremendous facilities is an essential component of Scotland's world-class performance system which delivered so emphatically with Team Scotland's success at Glasgow, and the NPCS will further benefit performance athletes and community participants when it opens in 2016."
Heriot-Watt University Principal, Professor Steve Chapman, said, "This marks the start of big changes for Heriot-Watt and Scotland as the innovative buildings take shape within a parkland setting. The design for the Centre has been developed 'around the athlete', providing world class sporting facilities and services that will have a positive impact on the preparation and development of athletes, coaches and volunteers."
Bowmer & Kirkland built the St George Park National Football Centre at Burton-on-Trent. Alan Johansen, Regional Director – North East and Scotland, said, "We are extremely proud to have been selected as preferred contractor on such a prestigious project for Scotland and we are looking forward to working with the entire project team."
Work on site at the new Centre will start in early 2015 and it will open for business in summer 2016.