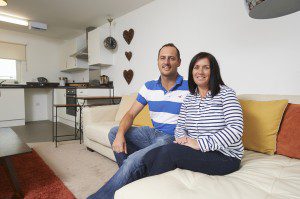 THE value of homes built and now fully occupied across the Scotland-wide National Housing Trust (NHT) programme has surpassed the £100 million mark and is benefiting many local SMEs working across the construction sector.
Managed by the Scottish Futures Trust (SFT), NHT is a programme aimed at delivering affordable-rent housing. Since its launch in 2010, contracts have been signed to build over 1,250 NHT homes at 32 locations across 10 local authority areas.
Marking the £100 million milestone, Gary and Nicola McIntosh and their two children are the latest family to take keys to their new NHT property situated on a small development in Kiltarlity near Inverness, built for the Highland Housing Alliance by local SME William Gray Construction and managed by the Highland Housing Alliance.
Christa Reekie, commercial director at SFT, said, "The total value of homes being built across the NHT programme has reached nearly £200 million. However, the real and tangible value of the programme is that hundreds of people are now living in quality, affordable-rent homes and is allowing construction to start which is benefiting many SMEs across the country.
"SFT and the Scottish Government designed NHT for Scotland's local authorities to use to increase the supply of affordable-rent homes in areas where there is demand. Highland Council has fully embraced the NHT initiative with contracts signed to build 167 homes, with just over half of them now built and occupied."
Housing Minister Margaret Burgess added, "With the value of homes being built as part of the NHT initiative standing at nearly £200 million, it's clear that NHT is having a hugely positive impact on the construction sector and the wider Scottish economy. Not only is NHT providing a significant economic boost, but it is also offering people and families the chance to rent a new home at affordable rates, and I have met tenants all over Scotland who are delighted with their new, high quality homes.
"The initiative continues to go from strength to strength, and is on track to deliver over 2,000 much needed new homes in communities across the country – all for very little taxpayers' money."