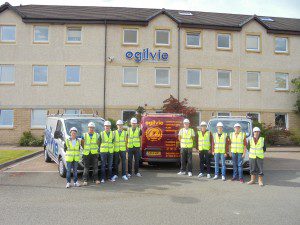 OGILVIE Construction has taken on ten new apprentices as the business continues to achieve its growth plans.
The Stirling-based company received applications this year from over 100 candidates and the new apprentices will be based at various sites around the country while they continue to attend their respective colleges.
Five of the new intake will specialise in joinery, four in plumbing and one in brickwork, developing their skills for a long-term future with the company.
Donald MacDonald, Managing Director, Ogilvie Construction, said, "We are delighted to be taking on so many apprentices this year as part of our commitment to give young people the opportunity to train and build a career.  They will work across the business as valued members of the team and we look forward to seeing them develop and grow with the company."