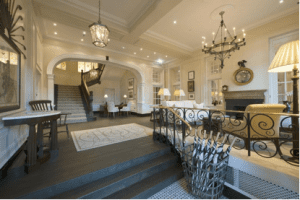 ISG has successfully completed a £15.6 million redevelopment of the iconic Hamilton Grand building in St. Andrews for The Kohler Co. – owners of the five star Old Course Hotel, Golf Resort and Spa.
The landmark property has undergone a stunning transformation into one of Scotland's most exclusive residential addresses. Hamilton Grand boasts 26 stunning apartments in two, three and four bedroom configurations, together with a private residents' lounge and courtyard garden and sixth floor roof deck.
Built in 1895 as The Grand Hotel, the building, which overlooks the Old Course in St Andrews, is the second most photographed building in the world of golf after the R&A headquarters. Then as now, the property was the height of luxury – the first building in Scotland to have a pneumatic elevator running between guest floors as well as hot and cold running water in every bathroom, setting the benchmark for the ultimate in hospitality.
During the Second World War the building saw service as the training headquarters for the Royal Air Force and most recently as accommodation for St Andrews University before The Kohler Co. acquired the property and announced its restoration plans.
An important element of the project has seen ISG reinstate one of the building's most distinctive features – its roof-mounted pepper pot domes. One of these domes was destroyed by fire in the 1980s and replaced with a fibreglass replica. ISG used the same materials and techniques to create an authentic replacement dome, which was subsequently craned into position and now overlooks the Old Course.
In addition to repairing and cleaning the entire building's façade, ISG has constructed a new brickwork section and extended the main entrance, creating two additional sandstone pillars to match existing architectural elements. New intricate metal work screens have been installed as well as locally manufactured hand-crafted external railings.