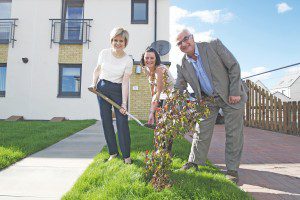 ELGIN-based house builder Springfield Properties Plc has marked a significant milestone in the company's ambitions for growth with a visit from Deputy First Minister Nicola Sturgeon.
The firm announced it had made the final payment to complete its takeover of Redrow's Scottish developments. The £49m transaction has been a significant step in achieving Springfield's ambitions for growth, introducing the builder to the Scottish Central belt market. The deal, which was struck in 2011, is estimated to have boosted turnover by an additional £30million a year in the last three years.
The visit from Ms Sturgeon to one of Springfield's busiest developments, Riverside Point at Braehead, Renfrew, highlighted the importance of the deal in Springfield Properties becoming a major player in Scotland's house building industry.
Springfield chairman Sandy Adam, who is also chairman of industry representative body Homes for Scotland welcomed Ms Sturgeon and explained how the deal fitted with Springfield's ambitions. He said, "The only way for us to sustain growth was geographic expansion. This deal came along at the right time. Sales on the sites hadn't been great, but they were in good locations and we were confident that we could turn them round.
"In the first instance we were able to safeguard all the Redrow jobs. It then took us about six months to introduce the customer focused approach of our brand. When we did, we saw sales rise 45% against an industry backdrop of around 8% sales growth. On this site, at Braehead, sales have gone from a standstill to 126 sales over three years. Success means we have been able to invest in more developments and create more jobs."
The house builder is currently building on over 30 developments across Scotland and has major developments planned for Perth and Dundee. In 2011, Springfield had around 400 people working on its projects, today that figure has risen to over 1000. This year the company was named Homes for Scotland Best Employer.