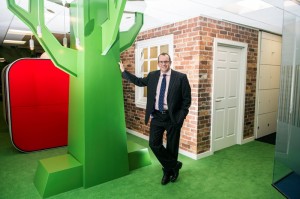 INTERNATIONAL software company, Blackbaud, have moved into their only Scottish location with an innovative Glasgow Green-themed office refurbishment designed by Clare Bradshaw from Nutmeg Studios and fitted by Glasgow-based Scotwood Interiors.
Based in Glasgow City centre, a standard open-plan office has been transformed in to a bespoke "Dear Green Workplace" with meeting rooms and break out areas fitted out with indoor trees, grass, street graffiti and Glasgow tenement windows.
To complete the 'outdoor' look and feel, an indoor courtyard with grass, picnic tables and old fashioned street lamps is the central space for employees to meet, finished with a Duke of Wellington canvas, which in true Glasgow style shows the Duke donning his obligatory traffic cone.
For the past 30 years, US-based Blackbaud have developed software and services for not-for-profit organisations helping over 30,000 customers accomplish their missions.
Scotwood began the Blackbaud contract in April and completed the entire fit out in the designated six-week timescale, under the project budget. Founded 50 years ago by Allan J. Scott, Scotwood has become one of Scotland's leading specialists in office design and refurbishment providing fresh and innovative design ideas specifically for commercial and industrial sectors.
Douglas Kerr, Joint Managing Director of Scotwood said, "For 50 years Scotwood Interiors have enjoyed working on jobs across a variety of industries and specs, and I can safely say this is the most unusual and exciting fit-out we have ever worked on. It genuinely feels like an indoor Glasgow, and we hope that jobs like this become benchmarks for other offices across the city. What an original and inspiring place to work."
Scotwood's 50th anniversary year has been a major success so far with a turnover of £2m in the first three months.