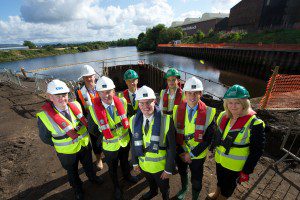 Scottish Government Minister for Local Government and Planning, Derek Mackay, has visited the 53 hectare Westway Park in Renfrew, to inspect progress at the £1.3 million dock development project.
The project was one of t
he first locations in the country to receive funding from the Scottish Government's National Renewable Infrastructure Fund (N-RIF), managed by Scottish Enterprise.
Derek Mackay
 said, "
It is always a pleasure to visit Westway and to witness first-hand the progress being made to 
bring the dock facilities back into operational use to support and attract companies involved in the manufacture of heavy components for Scotland's renewable energy sector.
"Following on from recent job announcements from Doosan, investment in this project has the potential to create further jobs within companies looking to locate or expand at Westway and is a great boost for Renfrewshire and the west of Scotland in general."
Mark Holmes, investment and asset manager of park owner Moorfield Group, added, "
Westway is becoming one of the top industrial locations in Scotland – we have concluded more than 300,000 sqft of property deals already this year. Our ongoing investment strategy has been a key factor in our success, along with the u
pgrade of the dock area, which will provide a much-needed transport solution for those involved in the transportation of large structures.
"The project has been supported every step of the way by the Scottish Government, Scottish Enterprise and Renfrewshire Council."
David Leven, head of energy infrastructure at Scottish Enterprise, said, "This investment at Westway has helped inject fresh industrial life to the upper Clyde to ensure that the site is capable of meeting the needs of manufacturing companies operating in the energy sector."
The development contract is being managed by GRAHAM Construction and has already involved dredging of the dock area, along with work to create a navigable channel along the River Cart.