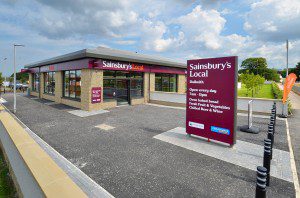 MACTAGGART & Mickel Commercial Property has completed its first supermarket for Sainsbury's.
The 6,206 sq ft store in Dalkeith marks another milestone in the firm's strategy of delivering both mixed use developments and standalone retail sites. The Sainsbury's unit is trading in the retailer's convenience store format. Block 2 provides a further 3,754 sq ft of retail space which has been subdivided and will be sublet.
Located next to the main entrance of Thornybank Green, in the south east corner, the premises comprise two retail blocks extending to approximately 10,000 sq ft in total, set around a central car park providing 79 spaces. Sister division Mactaggart & Mickel Contracts constructed the supermarket along with Block 2. The retail parade is part of a wider residential development which will deliver 100 mainstream and affordable homes.
Mactaggart & Mickel Group land manager Craig Ormond said, "To be working with one of the biggest household names in British retail is testament to the capabilities of our Commercial Property division. While still relatively new to the market, we have been capitalising on opportunities to create retail space within mixed use developments with our Group partners but are equally adept at promoting standalone sites. Our ability to deliver commercial property projects from construction – including specified builds – through to long term leasing means we are well positioned to grow the division over the coming years. As such, we are now proactively looking for external opportunities in strong locations like Dalkeith."