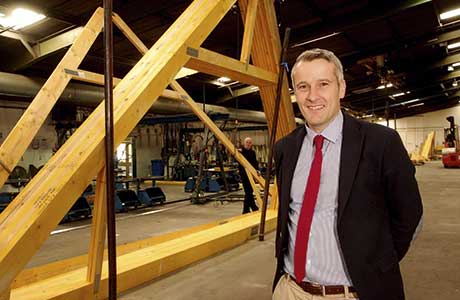 FOLLOWING an increase in demand for tall roof trusses, truss manufacturer Donaldson Timber Engineering Ltd (DTE) has launched SafeStep, a new scaffold system designed to minimise risk when fixing ridge bracing on these components.
Developed in conjunction with TRAD safety systems, SafeStep is a reusable metal cross bar which provides a safe method for installing roof ridge stability bracing on trusses over 2.5m.
The cross bar provides the base for a safe working platform to be fitted, while also allowing the longitudinal web bracing of the truss to act as a handrail. This enables carpenters to reach the truss apex and nail the stability bracing safely, eliminating the need to overstretch when working at height.
The patent pending SafeStep system was developed in response to a growing demand for tall fink style trusses. Until now, builders could request for trusses taller than 2.5m to be factory-fitted with pre-plated timber cross bars between the central webs.
As these cross bars remained on completion of the building, roof space became inaccessible and labour and material costs increased.
Ed Kirk, DTE operations director who designed the new product explained, "The factory-fitted crossbar concept is excellent from a construction perspective, but in manufacturing terms the cost of materials and labour increased by in excess of £5 per truss – which can add over £1,000 to an average housing development project. Plus the crossbars are permanent and restrict access to the loft space."
Jonathan Fellingham, managing director of DTE added, "We trialled the product with Taylor Wimpey and not only were we really pleased with the results, the feedback has been positive. We pride ourselves on our health and safety practices, and believe that the fixing of ridge bracing without a step or platform is dangerous and unacceptable. We hope SafeStep will encourage more people to use this method of truss installation, improving safety on site, and leading to considerable cost savings for our customers."
As SafeStep is adjustable, it can be used to suit any project and once the work is finished it can be removed and used again. It is available to buy in sets of three or five, depending on the builder's type of scaffold board, and can be included as part of a truss package.