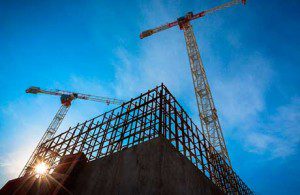 ACTIVITY rose in the second quarter of 2014 across all areas of construction, including building contractors, SMEs, specialist contractors, civil engineers and product manufacturers.  Future growth, however, may be put at risk by rising costs.
Those are the findings of the latest Construction Trade Survey. Noble Francis, Economics Director at the Construction Products Association, said, "Firms across construction reported rises in output during Q2 and the majority of the industry is expecting activity to rise over the next 12-18 months. Unsurprisingly, private new housing was the key driver of construction activity.  On balance, 41% of contractors reported that private housing output rose in Q2 compared with a year ago.
"The largest construction sector, private commercial, also enjoyed an increase in activity with 37% of contractors reporting that commercial output rose in Q2 compared with a year ago. In addition, 46% of building contractors reported that work in publicly-funded education and health construction saw a return to growth, reflecting the recovery in capital investment in 2014/15 with less than a year to go to the next election.
 "Tender prices rose in Q2.  Many major contractors are still working on projects won in 2013 at relatively low prices but have been suffering from the key concerns of rising costs and skills availability, especially in specific sectors such as private new housing. Overall, 80% of building contractors reported, on balance, that costs rose over the past year; 95% reported that materials costs rose over the past year and 75% reported that labour costs rose over the past year.  In terms of skills, 47% of building contractors reported that bricklayers and carpenters were difficult to recruit."
Stephen Ratcliffe, Director UKCG, added, "There are some mixed signals in these results showing that there is some way to go before full recovery in the sector.  As we move towards the general election next year, UKCG will continue to stress to politicians on all sides of the political divide the need for a visible public sector pipeline of infrastructure investment and a steady flow of new projects."
Richard Beresford, Chief Executive of the National Federation of Builders, said, "The good news is construction output is rising.  However, higher tender prices, materials and labour costs and difficulty in securing skilled labour at reasonable cost all highlight the fragility of this recovery. Longer term institutional investment and more easily accessible finance options for the industry would go some way to securing stable, sustainable growth."