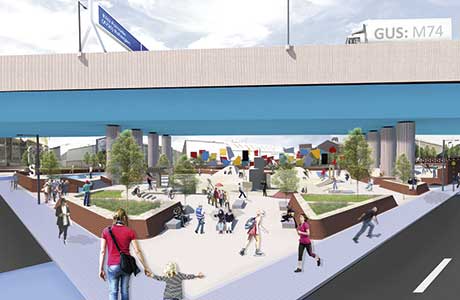 RADICAL plans to build a multi-use sports park under a disused part of the M74 have been unveiled.
The park could set a European precedent for its unique blueprint that will combine art, sport and urban realm design.
Glasgow Urban Sports, the charitable organisation behind the plans, has developed designs to revitalise a vacant space in the Port Eglinton area of Glasgow. They hope to transform the site into an inclusive, aesthetically intriguing park space, designed by artists to encourage radical urban sports use including skateboarding, BMX and free-running.
The park will utilise the M74 flyover, which will shelter over 50% of the space beneath, ensuring its users are not discouraged by changeable weather conditions.