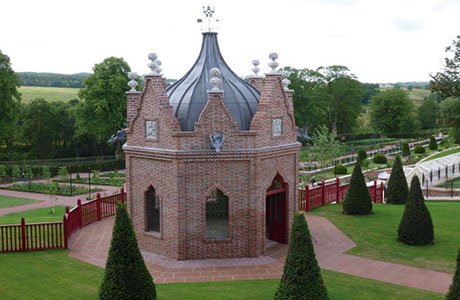 DUMFRIES House has been portrayed as an 18th-century Sleeping Beauty. Adam-designed and Chippendale-furnished, the story is that it remained untouched for 250 years before being 'kissed by a prince'.
This is largely true as the estate was saved for the nation in 2007. Its contents, dating from the mid-1750s, include at least 50 pieces by the great British furniture maker Thomas Chippendale along with the finest surviving collection of carved Scottish rococo furniture.
D. Blake & Co were awarded the leadwork package to cover the tower roof of the belvedere within the Queen Elizabeth walled garden. There was a tight works programme to fit in with the scheduled opening by the Queen on 2nd July.
Around 3.5 tonnes of code 6 lead was supplied by Jamestown Metals and installed with a gutter at base level discharging through ornamental lead cast dragons and a welted step section. 56 lead panels were then fitted to the tower onto a 22mm thick timber substrate with open gap boarding.
It took a last-minute pledge of £20 million from the Prince of Wales, allied to £25 million raised from other sources, to prevent the house contents being sent to auction.