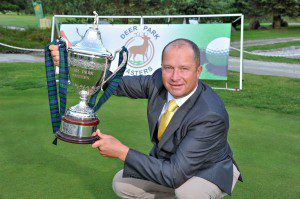 GREIG Hutcheon has won the Emtec Deer Park Masters. Tartan Tour No1 Hutcheon, of the Paul Lawrie Golf Centre, has won the Masters three times before. He carded a nine under Par 65 to finish tied with fellow pro Chris Kelly. He was then victorious in a sudden death play off to collect the £2500 top prize.
The tournament was sponsored by Glasgow-based building services firm Emtec, who have supported the contest for the past three years with both Gold Firms and Silver sponsorship.
A pro-am golf tournament conceived by Muir Group Chairman John Muir as a means of supporting the golf professionals of Scotland, and at the same time enabling amateur golfers to gain valuable insight into the game they love by playing with the professionals in a pro-am format, the Deer Park Masters offers PGA Tartan Tour Order of Merit Points and has substantial prize money up for grabs for the 50 golf professionals who take part from all over Scotland.
Each of the two days sees professionals from the order of merit qualifying round take part, each playing with three amateurs in a pro-am format. Level of sponsorship is determined by the number of teams each company submits. Three amateurs play in a pro-am format on the first day with a golfing professional to guide them round the challenging Par 72 course.
The Muir Group secured 96 corporate teams to take part in this year's Masters with Emtec the Gold Sponsor and brewers Heineken taking the Silver.
Alan Muir, Business Development Director for Muir Construction, said, "Once again we have had a fiercely fought Masters – it's always a real calendar highlight for the Muir Group, the staff at Deer Park and the many teams and professionals who take part year after year.The Masters is undoubtedly Scotland's leading business networking pro-am event."