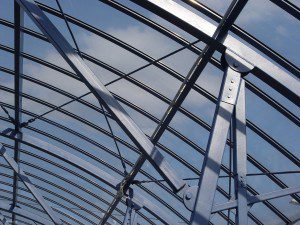 BM TRADA has said many steel manufacturers, contractors and fabricators remain unaware of the requirements placed on them by the introduction of the Construction Products Regulation (CPR).
On July 1, it became a criminal offence in the UK to supply a steel frame or structural steel components without a CE mark.
Since the CPR requires formal processes in place for both the production and design of structural steel frames and components, which may take some time to implement, BM TRADA is urging companies to take action.
Mark Wilkinson BM TRADA Commercial Business Development Manager, Building and Product Services said, "CE marking for structural steel products requires manufacturers and fabricators to not only consider the performance of the product but also to take into account its end-use.
"To apply the CE mark, manufacturers, contractors and fabricators need to demonstrate compliance to BS EN 1090: Part 1: Execution of steel structures and aluminium structuresand Part 2: Technical requirements for steel structures.
"Manufacturers/fabricators must produce a Declaration of Performance (DoP) for the steel frame or component/s as well as be in possession of a Factory Production Control (FPC) Certificate issued by a Notified Body, such as BM TRADA.
"Furthermore, if the manufacturer/fabricator is responsible for, or takes any responsibility for design (even if it sub-contracts this element), then to comply with CE marking and BS EN 1090, they must have a design protocol in place as part of their documented procedures."
BS EN 1090-2: Technical requirements for steel structures sets out four Execution Classes (EXCs):EXC1 – e.g. Agricultural buildings; EXC2 – e.g. Residential or Commercial structures; EXC3 – e.g. Bridges; and EXC4 – e.g. Special structures (long-span bridges etc)
For EXC2, 3 and 4, all welding must be controlled by a Responsible Welding Coordinator (RWC) who must have proven competencein accordance with the requirements of EN 14731 and the relevant part of EN ISO 3834.
To gain CE certification through BM TRADA, manufacturers must have an RWC that has passed an RWC training course deemed suitable by BM TRADA, or have qualifications such as the International Institute of Welding (IIW)/European Federation for Welding, Joining and Cutting (EWF) Welding Diploma at Specialist (IWE), Technologist (IWT) or Engineer (IWE) levels.
Mr Wilkinson added, "The process of achieving a CE mark may take some time to achieve. While many companies will have suitable production systems in place, they may need guidance in how to formalise these to ensure they have a compliant factory production control (FPC) system.
"BM TRADA can offer guidance for the CE marking process in such areas as assessing product ranges and subsequent requirements, to conducting factory production control audits and issuing CE marking FPC certificates.
"By working together with our clients BM TRADA endeavours to make achieving CE marking in accordance with BS EN 1090 as smooth as possible"