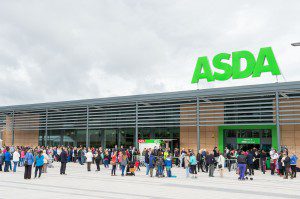 BARR Construction has completed the new Asda superstore for Barrhead – the second development completed for the supermarket chain.
The Barr team started the construction of the 25,000 sq ft store at the end of 2013 on a redundant site behind the former health centre. The supermarket was built on a sloped site which sees the main sales-floor level with Barrhead Main Street and car-parking for up to 250 cars provided beneath. Barr is a leader for "stores on stilts" having completed similar projects in Galston, Blackpool and Maryhill.
Barr have also delivered a new petrol station as well as cycle parking spaces to encourage more sustainable forms of transport and two electronic car charge points. Paul Happell, Senior Project Manager for Barr Construction, said, "As a Paisley-based company, Barr Construction is proud to be playing an integral role in the redevelopment of the town centre and we're proud to be able to provide this fantastic retail facility for the local community.
 "As our second project for Asda following the opening of the Dundee store last year, we are looking forward to continuing our relationship with the retailer in the future."