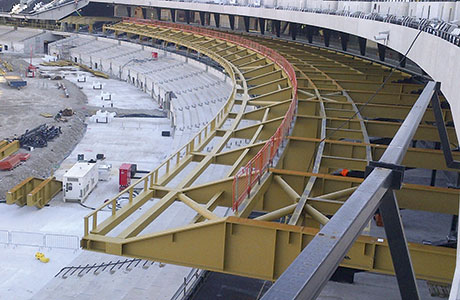 AYRSHIRE-based J & D Pierce (Contracts) Ltd continues to spread its net throughout the UK by securing the structural steelwork required on London's Olympic Stadium.
The arena is being transformed into a football stadium for use by West Ham United and the local community.
Work is currently ongoing and J & D Pierce has a growing scope of works on site which started with the installation of a mid-tier deck, high level walkway and rear pavilion.
The mid-tier is formed from deep tapering fabricated girders which cantilever off original seating raker beams and new props. The curved geometry and connections led to careful surveys and scope for tolerance.
The high level walkway interfaces with faceted and raking members so again needed careful survey and site drilling for connections.
Work on the rear pavilion is underway where again J & D Pierce is challenged by site connections to raking hollow sections to support the new structure.
J & D Pierce has also been successful in winning the structural steelwork contract on the New Super Campus in Glasgow's Cathedral Street with Sir Robert McAlpine.
Erection of the steelwork has started on the 11-storey building including the lifting and positioning of the precast floor planks which is also part of the firm's contract.
Exposed steelwork will be a feature throughout the whole building and the large span trusses in the atrium, 45m, will showcase the steel structure.
With 5100 tonnes of steelwork to erect, completion of the steelwork is scheduled for the end of January.
With the new smaller campus south of the river in Thistle Street, this represents the single largest estates development in the college sector in Scotland.
On completion, it will be home to more than 40,000 students of more than 130 nationalities and approximately 1,200 members of staff.