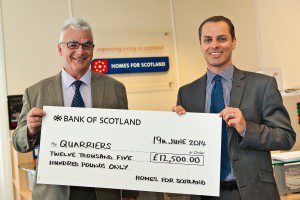 QUARRIERS, an Official Charity of The 2014 Ryder Cup, was overwhelmed by the generosity of the country's housebuilding sector as it received a £12,500 donation from Homes for Scotland.
The trade body, which represents companies building 95% of homes for sale as well as a significant proportion of affordable housing, raised the money at its recent Annual Lunch & Awards, with Quarriers providing much sought-after tickets to The 2014 Ryder Cup at Gleneagles in September for the prize draw.
The generous gesture was arranged in support of Quarriers' Ryder Cup Appeal, where supporting businesses and organisations receive general admission Season Passes and VIP tickets to this year's Match in exchange for raising funds for the charity.
The money raised by the Appeal will help Quarriers' pioneering Coaching for Life initiative which offers support and guidance for young people who are facing disadvantages such as homelessness, leaving care, emotional trauma and neglected education.
Niall Macpherson, Quarriers' Director of Finance and Corporate Services, who received the donation from Homes for Scotland Chairman Sandy Adam, said, "We're delighted to have the support of such an influential organisation as Homes for Scotland and are extremely grateful for the generosity shown by the body and its members. They've raised a tremendous amount of money for the charity and we hope the lucky winner enjoys the Match at Gleneagles when it comes.
"The Ryder Cup Appeal has been a fantastic project for us and will have a valuable impact on the delivery of our Coaching for Life initiative. Our aim is to provide life changing opportunities for hundreds of young people across Scotland and the Appeal gives us an excellent platform to engage with organisations from all sectors."
Speaking of Homes for Scotland's efforts, Mr Adam added, "There is a clear linkage between our industry's aim of building the homes which are necessary to provide the stable, secure platform Scots need to realise their potential and Quarriers' goal of helping people succeed and overcome the challenges life brings. We are therefore very pleased to be contributing to this vital work with what is a record charitable donation for our organisation."