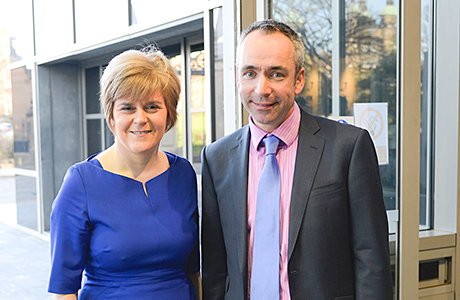 A new survey has revealed that business in Scotland is on the up, but a shortage of skills could hamper the continued recovery.
The Scottish Chambers of Commerce's Quarterly Business Survey found that confidence in construction and manufacturing was at near record highs, but employers are struggling to find the skilled staff necessary to maintain the momentum.
Liz Cameron, Chief Executive of Scottish Chambers of Commerce said, "Construction and manufacturing reported better than expected results (in the second quarter), exceeding the expectations from last quarter. Confidence in manufacturing and construction is near record highs, signalling a move towards solid growth prospects, indicated by increased orders. The construction industry hired more people, enabled by better than forecast orders which are expected to continue into the next quarter. The manufacturing industry reported an increase in export orders and investment, with current investment at its highest level since 2007.
"Employment is a key measurement of business mood and our findings show that with increased growth and confidence, businesses are now moving away from employing temporary staff towards new permanent full time positions. This is good news for everyone providing employees and business with a level of stability.
"Skills shortages existent in the workforce are making it difficult for business to source and employ the skilled staff required to maintain this growth. Our continued failure to address these issues will block the ability of business to continue on this path."
Almost 70% of businesses in the financial and business services industry expect profits to increase over the next 12 months. Alongside buoyant confidence levels, manufacturing and construction orders are expected to rise further in Q3.
Ed Monaghan, Chair of Construction Scotland and Chair of Scottish Advisory Committee of CITB Scotland said, "As we start to move into the second half of the year it is heartening to see this report show better than expected results for the Scottish construction sector – and particularly the fact that confidence is high for now, and looking forward.
"The fact that construction companies hired more people is also good news – although this is tempered by recruitment challenges with respondents highlighting problems attracting suitably qualified and skilled staff for both professional and technical roles.  Closing this skills gap is high on our agenda here at Construction Scotland and is one that we are actively working on in partnership with others including the Scottish Government, Skills Development Scotland and CITB.
"We are working hard to promote construction as an industry that offers exciting and interesting career options in many sectors – it's not just about working on building sites or infrastructure projects which are, of course, the most visible – and we will continue to do this in order to ensure that we are attracting young people to train for careers in the multitude of trade and professions within our sector.By doing this we will ensure that we attract, train and retain the workforce we require to achieve our goals now and in years to come."