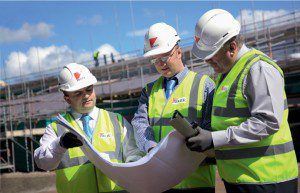 THE latest ONS Output in the Construction Industry figures show a slight dip in May compared with the previous month – but industry experts insist there is no cause for alarm.
The stats reveal that in May 2014, output in the construction industry was estimated to have fallen by 1.1% compared with April 2014, after increasing by 1.2% in April. Both new work and repair and maintenance fell by 1.1% in May 2014.
However, compared with May 2013, output in the construction industry increased by 3.5%. All new work and repair & maintenance both increased by 3.7% and 3.1% respectively.
Housing new work provided the largest contribution to the increase in all new work compared with May 2013, with both public and private housing seeing substantial increases of 29.3% and 16.8% respectively. This resulted in all new housing increasing by 19.4%. Private industrial new work also increased compared with 2013.
Ed Monaghan, Chair of Construction Scotland, said, "While the figures released by ONS today show a slight dip in construction compared to recent months, I don't believe that the Scottish construction industry has any immediate cause for concern.
"The steady growth that we have seen up to this point both here in Scotland and in the rest of the UK confirms what I predicted and hoped for at the end of last year – slow and steady growth that will avoid another boom and bust cycle, and I believe and hope that we are still on track to achieve this."
Brian McQuade, managing director of Kier Construction's Scotland & north-east England business, said, "Today's statistics may have dipped slightly, compared to previous months, but the industry as a whole is taking a more positive path. A number of interesting tenders are emerging for education, community and infrastructure projects and on a national level, Kier Group plc has just announced a strong second half of the year ending June 2014, with an order book of secured or probable contracts of approximately £2.6bn – representing almost 90 percent of the anticipated revenue until year end June 2015.
"Kier Construction in Scotland is also working on a number of significant new projects. Most recently, we have been appointed by hub South-West Scotland to deliver a £35m project which will see the creation of a new education campus in Kilmarnock on behalf of East Ayrshire Council.
"I continue to remain optimistic that, as we enter the latter half of 2014, we will see an improvement in the statistics and that the construction industry will maintain and improve on the growth that we saw throughout 2013."