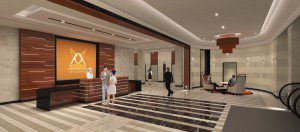 ABERDEEN-based Knight Property Group has announced the next phase in its landmark £35million development of The Capitol.
Principal Contractor, Andrew Cowie Construction, will complete the complex, 16-week demolition of the former nightclubs and auditorium before attention turns to the new build extension and to the interiors.
Knight Property Group wants to remain true to the listed building's art deco heritage and, following a thorough selection process, has selected and appointed Keppie as interior designer to design and bring back to life the front of house to its 1930s glory.
Howard Crawshaw, Director at Knight Property Group, said, "Andrew Cowie Construction has continued to build upon its history of successful contracts with Knight Property Group. As always, its activity has brought real value to the table during the design and value engineering for the new build works and continues to demolish the existing structure in a tight site working adjacent to existing properties.
"This next phase focuses on the new build structure and the existing interiors. Keppie has perfectly articulated our vision for the existing front of house area. We are hugely enthusiastic about the designs and images they have presented and look forward to seeing those come to life over the coming months."
A spokesperson for Andrew Cowie Construction said, "Andrew Cowie Construction is delighted to be working alongside Knight Property Group again, on what will be a prestigious landmark city centre development.  It is a tremendous endorsement of the hard work and dedication of all our staff and workforce to be involved."
As part of the redevelopment, Knight Property Group will install escalators to link the refurbished art deco front of house with the new-build office development to the rear. The exterior of the building fronting Union Street will also be restored, paying specific attention to the former canopy, signage and stonework.
Fraser Low, director and head of Interior Architecture at Keppie, said, "As the building is Category B-listed, we have had to work hard to identify and retain the elements of historic merit within the interior and exterior of the existing building.
"A considerable amount of research was undertaken into the Art Deco movement so that our interpretation is both complementary to the period and appropriate for the building's contemporary change of use."
Aberdeen City Council approved the commercial property developer's plans in September last year for the restoration, renovation and extension of the building to create prime office space for up to 700 personnel, covering approximately 75,000 square feet, which will go towards meeting the current demand for commercial space in the city centre. The project is on track for completion in late 2015.