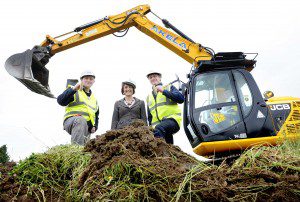 SCOTTISH Government investment in a major building project between Edinburgh and Glasgow will create jobs, strengthen skills and grow the economy.
The latest phase of the Southdale, one of Scotland's largest regeneration projects has received £350,000 from the Housebuilding Infrastructure Loan Fund.
Around 380 homes will be built by Taylor Wimpey and Bellway in the next two to four years in a southern extension to the town of Armadale in West Lothian. The land will also be transferred back to the Council to deliver a new Primary School at the site.
Cabinet Secretary for Training, Youth and Women's Employment Angela Constance was present to break ground for the new housing at the Bellway Homes site. She said, "The Southdale development will not only create a new community in West Lothian, complete with its own primary school, it will boost local skills and employment, creating jobs in construction and other sectors vital to the Scottish economy.
"I am very pleased that the Scottish Government has been able to invest in the next phase of Southdale. We will continue to work with West Lothian Council, firms and key stakeholders to ensure the project continues to develop, strengthening Scotland's infrastructure and boosting economic growth.
"Being so centrally located and within equal distance from Scotland's two largest cities also makes the project even more attractive to investors and potential home buyers and I will watch progress on Southdale with a great deal of interest."
Sandra Carter, Director for Southdale developers, EWP Investments Ltd, said, "We are delighted to welcome the Cabinet Secretary taking time out of her busy schedule to break ground for the second phase of housing and would like to thank the community for their strong backing for this exciting development.
"Southdale is one of Scotland's largest and fastest growing regeneration projects and over the next few months we will be engaging in some intensive promotion to attract investors into West Lothian and to our development, bringing with them considerable employment opportunities."