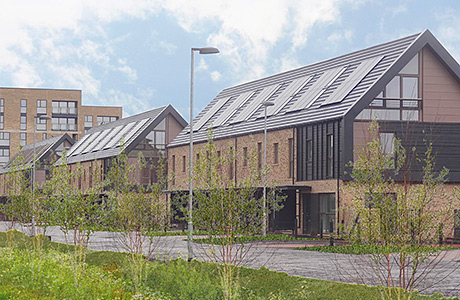 NORDAN UK Ltd has supplied energy efficient timber windows and doors for the Commonwealth Games Athletes' Village.
More than 6500 athletes and officials will stay there for the period of the Games, and afterwards the buildings will revert to a mix of affordable housing with some homes for sale. This forms part of a major regeneration of the East End of Glasgow.
The £150m Athletes Village is funded by Glasgow City Council and the Scottish Government and built by "City Legacy", a Consortium of contractors including Mactaggart & Mickel, Crudens Building and Renewals and CCG. The architects for this project were RMJM Architects.
The result is a transformation of a 35 hectare run down site in to a much sought after area.
The homes are designed to the stricter U-values and air tightness demanded by the 2013 Building Regulations.
"Sustainability is key – 10% of the village's energy will come from renewable energy sources on site, a minimum of 10% recycled materials will be used in the construction," said Peter O'Neil, General Manager in NorDan's Wishaw office. "The unique design of the accommodation facilities is highly flexible, and allows for relatively simple post games retrofit, which will eventually see a total development of 1500 homes on this site."
NorDan is supplying high quality high performance tilt and turn timber windows and fully reversible windows from its NTech 1.2 range External doors are from the NorDan factory at Bor in Sweden, with glazed doors for the ground floors and balconies manufactured at Egersund, Norway.
Meanwhile, NorDan recently announced they will be sponsoring para-athlete Meggan Dawson-Farrell (pictured below with Finance Director Gillian Irvine and Alex Brown, managing director NorDan UK).
Meggan holds every Scottish record for a female T54 wheelchair racer from the 100 metres to the Marathon.