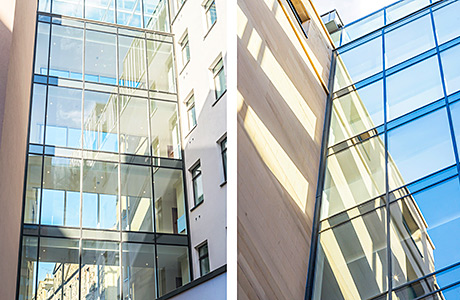 An area of Edinburgh gutted by fire 12 years ago is set to have new life breathed into it.
Metal Technology has provided a range of products on one of the city's newest destination hotels.
Situated in the exciting new mixed use district known as "SoCo", in the heart of the Old Town, the 259-bedroom Ibis hotel forms a key element of the £30m scheme.
It is designed by ICA Architects and built by main contractor McAleer and Rushe to transform the junction of Chambers Street, South Bridge and Cowgate.
The famous jazz club La Belle Angele which once occupied the site will be reopened, a vibrant addition to the area's nightlife.
The Metal Technology System 17 Curtain Walling and System 9 Flush Glazing façade creates a cool contemporary exterior for the hotel, reflecting the historic buildings around it in an amalgamation of new and old.
System 17 offers the designer a wide and diverse range of profiles that provide structural integrity, weather performance and thermal enhancement.
A cost-effective, quality engineered glazing solution, System 17 complies with current British Standards and is an appropriate option for expansive high rise glazed applications.
All Metal Technology's window and door systems are complementary to System 17 offering the designer complete versatility. The company's System 10 doors and System 5-20 Thermally Broken Tilt and Turn windows complete the integrated suite of products on this focal building.