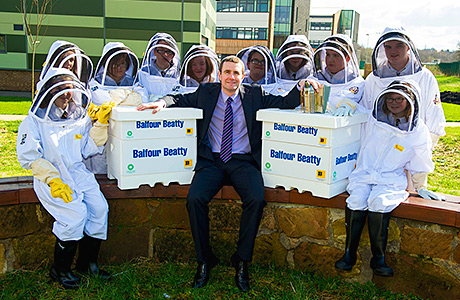 A sustainability project funded by Balfour Beatty at St Ambrose and Buchanan High Schools in Coatbridge is creating a real buzz – quite literally!
The project includes the acquisition of two bee hives which were delivered to the new campus, which Balfour Beatty constructed.
The firm will fund the management of the hives by specialist company, Plan Bee, who will also teach the basics of bee-keeping and the importance of bees to the environment.
Elizabeth Denton, Deputy Head of St Ambrose High School, said, "Saint Ambrose, our patron saint, has a strong association with bees. Our school badge features bees on it. So naturally we were keen to have bees on our lovely new campus."
St Ambrose and Buchanan High Schools were the 28th school that Balfour Beatty had delivered for North Lanarkshire Council in six years. The building was designed with sustainability in mind.