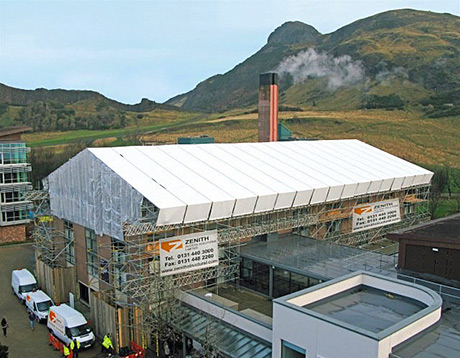 "A hill for magnitude, a mountain in virtue of its bold design". This is Robert Louis Stevenson's description of Arthur's Seat which is the main peak of the group of hills forming Holyrood Park in the centre of Edinburgh.
Pollack Halls is the primary residential centre serving the University of Edinburgh, and with its location at the foot of this iconic landmark, it is also popular with tourists looking for accommodation outside of term time.
The site is also home to the John McIntyre Conference Centre, built originally as the refectory block and named after the first senior warden of the complex. A £9 million redevelopment in 2009 improved the catering facilities and added extensive conference facilities.
The centre now offers capacity for 350 delegates, four breakout rooms, state of the art audio visual equipment, as well as a restaurant with an adjoining lounge.
Operating as the main food hub for the catered student accommodation in addition to the conference and events programme, the recent requirement for roofing repair work needed to be competed with minimal disruption.
The renewal of the roof weather membrane and upgrade of roof insulation were completed under a scaffold constructed temporary roof to ensure the continued operations of the Centre.
The works were undertaken by Zenith Structural Access Solutions, who in conjunction with access and building equipment suppliers Generation Hire and Sale, designed a system to enable 1500 square metres of roof covering to be replaced inside a fully contained environment.
Zenith Scaffolding Manager, John Lee said, "The project was delivered in a very challenging period but the team was able to hand over the completed system on programme after 24 days."
The sheeting for the temporary roof system was supplied by Industrial Textiles and Plastics (ITP). Powerclad Keder Sheeting is designed for modular temporary roof systems and is manufactured using full width seamless material to provide maximum strength. For the work on the John McIntyre Centre, the strength and flame retardant properties of the sheeting assured the safety of the students and visitors while the works were underway, and with exceptional light transmission, optimised working hours to ensure a timely completion.
Marc van der Voort, Managing Director of ITP said, "Powerclad Keder 1215FR is unique in its LPS 1215 Flame Retardant LPCB certification. For projects such as the John McIntyre Centre where the work is carried out during the normal operation of the facility, our sheeting offers vital protection and assurance."
With all the work now complete, resident students at the university and conference delegates have reclaimed their enviable rooms with a view.