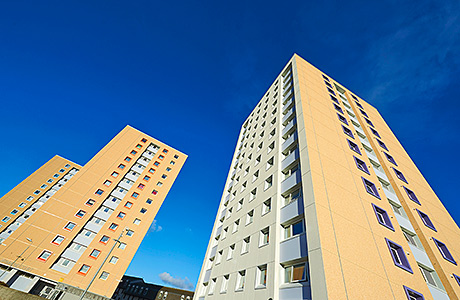 METAL Technology has supplied £500,000 (installed value) of their System 1-35 Hi+(high insulation) Top Swing Fully Reversible windows for the refurbishment of three apartment blocks for Aberdeen City Council.
The overall project was to refurbish three multi-storey tower blocks in Balnagask , Aberdeen.
The work was undertaken by housing refurbishment specialist Lovell, with installation of the windows carried out by Cumbernauld-based CMS Enviro Window Systems.
Approximately 1200 triple-glazed opening vents were installed on three apartment blocks in a programme designed to upgrade the flats' energy efficiency and external appearance.
Extra investment in aesthetic values was made with rainscreen cladding adding the final touches.
System 1-35Hi+ is a new addition to Metal Technology's range.
It is a high performance, thermally enhanced top swing window that offers many advantages over other types of window.
Easily and safely cleaned from within the building by reversing the window through 180°, the window has safety restrictors built in to ensure that it can be restrained securely in the ventilation or reverse position.
A risk assessment associated with cleaning windows from within a building, BS 8213: Pt.1:1991 (Table 1) rates this type of window as among the safest.
Other advantages include the facility to reverse the window through 180° without the window projecting inwards into the room – avoiding possible damage to blinds and curtains.
On the Balnagask scheme, the system 1-35Hi+ in conjunction with the correct glass specification achieved a window U-value of 1.3W/m2K. Glazing thicknesses of up to 47mm can be accommodated within the system.