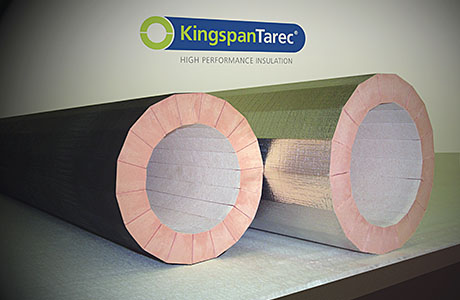 Kingspan Tarec® is offering specifiers even greater freedom and flexibility with the latest developments in its premium performance Kooltherm® FM Pipe Insulation.
The market leading manufacturer has introduced slotted board technology to complement its award winning continuous pipeline manufacture process, creating a range of fully bore coated products for pipe sizes from 15 to 610 mm. An architectural, 'Theatre Black' facing option has also been launched, providing an ideal alternative for exposed to view applications.
With thermal conductivities as low as 0.025 W/m·K, Kooltherm® FM Pipe Insulation is able to meet the thermal performance requirements of each application with a minimal thickness.