Peter Barrow, Marketing Executive for Forster Group Ltd examines the future of new build house design in Scotland – and tells Project Scotland why integrated solar PV is the way ahead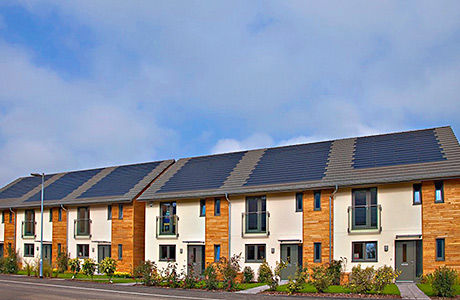 INTEGRATED solar PV – could this be the future of new house build design in Scotland?
Barratt Homes, one of the UK's largest house builders believe so, as they have specified Solarcentury's fully integrated C21e solar tiles on a number of their sites across the UK, including their Evolution and Devona Gate developments in Aberdeen and Dyce.
Barratt Regional Director for Scotland Doug McLeod said, "Unlike retro-fitted bolt-on systems, integrated PV can be worked seamlessly into our build programme and maintain the benefits of the NHBC new home warranty.
"The subtlety of the design appeals to our customers and on more sensitive sites helps aid the planning process. And of course ultimately it represents a significant progression towards the practical delivery of the 2015 stepped change in carbon reduction."
Systems like Solarcentury's C21e solar tiles and slates integrate seamlessly with new and existing roofs, providing a more subtle and elegant contrast to conventional on-top roof systems.
Perth-based developer Stephen are also strong advocates of fully integrated systems. Stephen's Commercial Manager John McCormack said, "We opted to use PV tiles on our new development in Kinnesswood to meet our obligation under the 2010 Building Regulations as we considered that this solution would pass a greater benefit on to our clients. We also determined that opting for fully integrated PV tiles would provide the most aesthetically pleasing solution".
A further key benefit of integrated PV systems is the way it is fixed to the roof.
"It is critical that the installation of solar systems does not impact the integrity of the roof in fulfilling its main function of protecting building occupiers and their homes from the elements," said John Forster, Chairman of roofing and PV installation specialists Forster.
"There has become a growing unease surrounding the fixings of many solar PV systems, the impact this has on weather tightness and the life expectancy of the roof."
However as from March this year the Feed-in-Tariff (the UK Government's financial incentive to stimulate demand in solar PV) has only been available for solar mounting systems that meet the new rigorous demands of MCS 012.
The additional performance criteria relate to the resistance to wind uplift, fire performance and weathertightness.
"The mounting of the solar panels on or in the roof shall not decrease the weather performance of the declared roof types" as stated in MCS 012, Issue 1.1.
The certification is welcomed as it means that solar systems are now tested to the same industry standards as the roofing products they are designed to work with.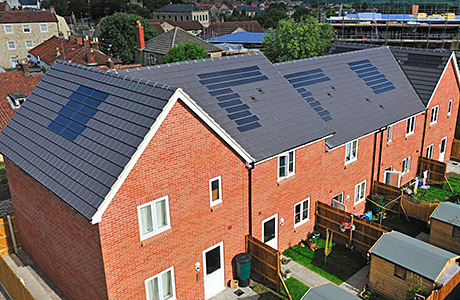 Jan Muller, Director of Engineering at Solarcentury, said, "We've always believed that consumers would be better protected if solar products met the same standard as roofing products.
"The introduction of this requirement is something that we feel is long overdue."
"We need to shift our thinking from believing PV is just something that we bolt on top of roofs to something that is actually part of the fabric of the roof," added John Forster.
"Integrated products delivered by installers providing a fully integrated (roofing and PV) service represents the future of PV for new home building," said Doug McLeod.
With almost 25 years experience of providing roofing services to the Scottish volume housebuild market, and currently providing roofs for almost one in five of all new houses, Forster are perfectly positioned to help make this happen. We have provided this fully integrated service for Barratt and Stephen's recent new developments.
For more information on Forster's integrated offering visit www.forsterenergy.co.uk/integratedPVservice