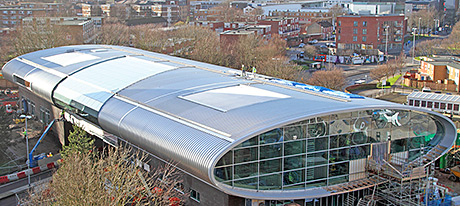 KOVARA Projects Ltd triumphed at the Kalzip Annual Teamkal Conference and Awards Ceremony by scooping the Contractor of the Year award.
The company achieved further success by picking up highly commended 'Technical Excellence & Design' and 'Best Kalzip Project Under 1500 sqm' awards for Rochdale Transport Interchange and highly commended award for 'Best Kalzip Project Over 1500 sqm' for Somerstown Community Hub, Portsmouth (pictured above).
BAM designed and built Somerstown Community Hub for Portsmouth Council to help kick start the regeneration of the area. The upper floors of the three-storey building are encased in an impressive squashed tubular structure which has a Kalzip perforated steel liner for improved acoustic performance and an outer cladding formed by a combination of naturally curved and site-manufactured smooth curved Kalzip aluminium standing seam sheets – the radii of these curved Kalzip cladding sheets vary but at their extremities, they are the tightest achievable.
Installing the Kalzip cladding on the Hub's restricted site was made even more difficult for Kovara because the tubular body of the building spans above a main dual carriageway.