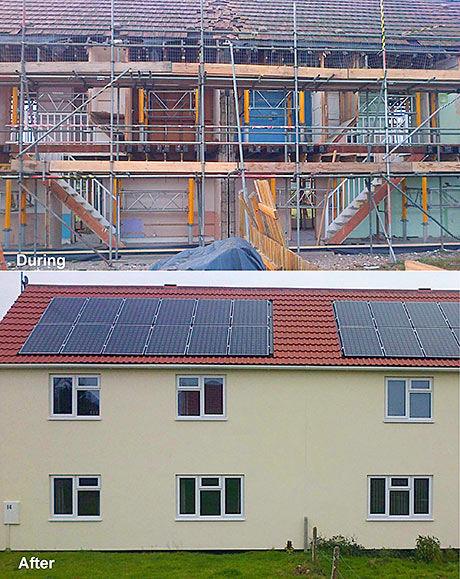 AIREY houses in Norfolk are being restructured and clad with External Wall Insulation by Saint-Gobain Weber to improve their thermal performance and aesthetics.
The properties are owned by Freebridge Community Housing who own and manage almost 7,000 homes in the region. The Airey house features pre-cast, large format blocks as cladding hung on a reinforced concrete frame structure.
These buildings offered a solution to post World War II housing needs but delivered little in the way of insulation and performance values.
Like many of the pre-fab schemes of the time, the Airey house was considered a temporary fix but 70 years later many are still standing and have provided robust if not warm homes. EWI is the ideal thermal efficiency solution but in this particular project structural capacity was a major concern. Adding substantial insulation material and weatherproof render systems directly to the pre-cast panels was ruled out due to load bearing restraints and a more comprehensive replacement walling scheme was introduced in conjunction with the Weber EWI system.
The approach to the restructure involved a major renovation process that included lifting and supporting the entire roof structure. The pre-cast ship-lap style concrete panels were also removed as well as the front and back framework. A modern timber stud frame was then installed with ply cladding and a vapour barrier. The roof structure was then lowered back into position, additional roof insulation added, and retiled.
A typical un-renovated Airey house construction is expected to have a U-value of 2.0 W/m²K. Saint-Gobain Weber has calculated an impressive U-value of 0.15 W/m²K with the application of 120mm weber.therm EPS to the insulated timber frame construction which will provide an improved living environment.