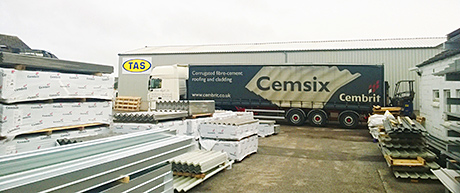 Cembrit, the corrugated sheet specialist, has developed a new relationship with TAS Building Supplies, located in Castle Douglas, Scotland.
This affiliation sees TAS stocking Cembrit's Cemsix and B5 corrugated sheets, providing local roofing contractors and builders with easy access to these fibre cement products.
The family run, independent building supplier started operating its corrugated sheet and cladding department late last year and now supplies fibre cement sheets to an average of four or five projects a month. TAS was looking for a manufacturer who provides cost effective and high quality corrugated sheets.