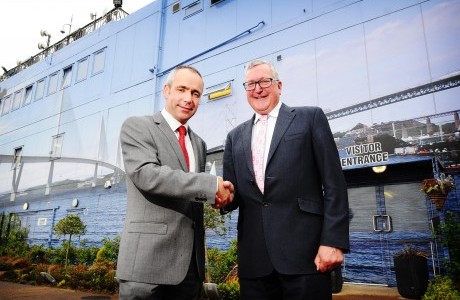 CONSTRUCTION Scotland's Industry Leadership Group recently welcomed Minister for Energy, Enterprise and Tourism Fergus Ewing MSP to their meeting at the Forth Replacement Crossing.
The setting at one of Scotland's most significant and iconic current construction projects was fitting as the group updated the Minister on the latest industry-wide issues and initiatives which it is focused on – including its plans to capitalise on international opportunities both in terms of securing business for the Scottish construction industry overseas and attracting international contacts to come to Scotland.
Fergus Ewing said, "The Scottish construction industry has a major role to play in Scotland's economic prosperity. For example, building the Queensferry Crossing is a vital project, safeguarding future travel over the Forth. The project is currently providing over 1,000 direct job opportunities as well as over £157 million worth of sub contract and supply order opportunities for Scottish firms so far.
"I was delighted to hear about the work of Construction Scotland and I am keen to hear how they progress with the implementation of their recently announced Innovation Centre."
Ed Monaghan, Chair of Construction Scotland, said, "The Minister's attendance was most welcome, as was his support for what we have achieved over the last 18 months or so as we have progressed the establishment of this industry body to become increasingly recognised by the professions and trades we represent throughout the country.
"We look forward to keeping in touch with him and to working together where relevant and appropriate on the Scottish Government-led construction initiatives that we are involved in."