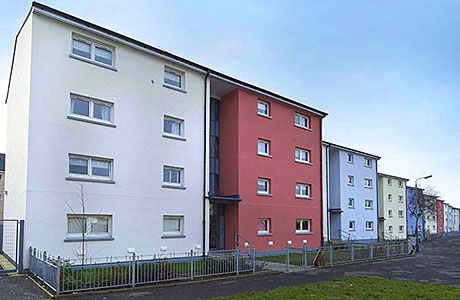 Swisslab external wall insulation (EWI) from Alumasc has been used in the colourful refurbishment of a social housing scheme in Shettleston, Glasgow.
The South Greenfield Render Project is a £3.2million refurbishment programme implemented by Shettleston Housing Association to upgrade the insulation and improve the aesthetics of a scheme of 1960's tenement flats. The new-look development is already gaining industry recognition and was recently a finalist in the AJ Retrofit Awards 2013.
Alumasc's Swisslab EWI system is regularly used for regeneration projects as it eliminates cold bridging, condensation and mould growth and protects the structural fabric of the building with an effective life in excess of 30 years.  Existing properties are transformed in both their external appearance and thermal efficiency.
As a major element of the retrofit works, over 10,000m2 of Swisslab was installed. The overall combination of the insulation and external render has greatly improved thermal performance from the original U-Value of 1.36 w/m2k to an impressive 0.3 w/m2k.  Alumasc's registered applicator at South Greenfield was Volker Laser Ltd and the main contractor was Cruden Building and Renewals Ltd.