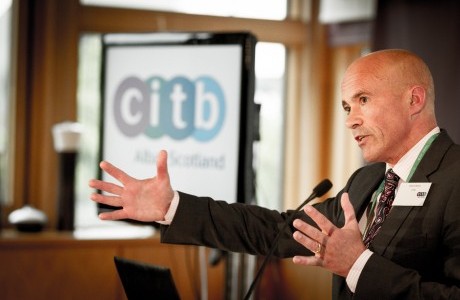 The Construction Industry Training Board (CITB) Scotland has celebrated 50 years of supporting the country's apprentices in a special event at the Scottish Parliament.
The  event saw special guests from the worlds of construction and politics gather to hear CITB Scotland's vision for another successful 50 years of supporting industry to inspire a new generation of talent in driving growth.
 The celebration event, entitled "CITB: Supporting Scotland's Apprentices for 50 Years", featured speeches from Angela Constance MSP, Ed Monaghan (Chair of Construction Scotland) and Adrian Belton (CITB CEO). Mike McKenzie MSP was host and offered a warm welcome to all guests at the event also attended by Graeme Ogilvy, CITB Scotland Director.
 Adrian Belton said: "CITB is as relevant today as it was 50 years ago and we're very proud of that heritage and history in Scotland.
 "More importantly we have an important role in shaping the industry of the future. There is huge ambition in Scotland and this 50th anniversary event has provided the perfect opportunity to share CITB's strategy for Scotland and discuss some of the excellent projects we have in the pipeline."
 Since its establishment in 1964, CITB has – across the UK – trained more than 300,000 apprentices, helped more than 1.3m people achieve a vocational qualification and supported them by providing more than £2.3b through the grants scheme.
Graeme Ogilvy, CITB Scotland Director, said: "This was a fitting event to mark 50 years of CITB in Scotland and we thank all those who attended and participated. In recent years, CITB Scotland has worked hard to support apprentices during the economic turndown, ensuring that some 80% of redundant apprentices have been restarted. More encouraging news is that the total number of new apprentices coming into the industry under CITB has increased by 15%.
 "However, we are all aware of the challenges facing industry with a requirement for around 6,000 people to annually enter into the construction industry in Scotland. So for CITB to be enjoying the same impact in the next 50 years we must continue to evolve, which is why – while acknowledging the role of traditional building skills – CITB is also using innovative teaching methods using new technologies.
"Tonight also demonstrated the strong partnership approach that exists and it is by continuing to work closely with government, federations, further education and others that we will continue to deliver for Scotland's young people, the future workforce of construction and the future of the industry itself."
Ed Monaghan, Chair of Construction Scotland, said: "On behalf of Construction Scotland I would like to congratulate CITB Scotland on achieving 50 years of success and in making such a significant contribution to the Scottish construction industry. Ensuring that we are equipped skills-wise to meet the changing demands of our industry is vital and, as someone who has been closely involved in championing skills and training for many years now, I am keen for Construction Scotland to continue to work closely with CITB Scotland to ensure that we attract, train and retain the workforce we require to achieve our goals now and in years to come."