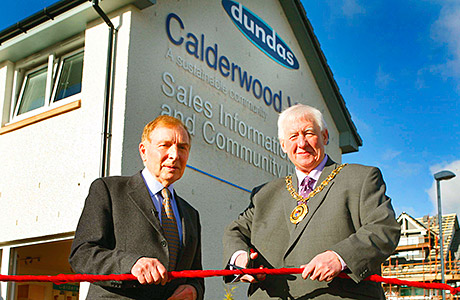 SIR Tom Farmer and the Provost of North Lanarkshire, James Robertson, officially opened the doors to the eagerly-awaited Community Hub at Calderwood Village.
Key dignitaries were in attendance to mark this significant milestone at Scotland's first Yours Sustainable Community in Coatbridge – a joint venture between Dundas Estates and Morston Assets.
Sir Tom spoke about the close knit environment he grew up in in Leith and drew parallels with the community being created at Calderwood Village.
As a Yours Sustainable Community, Calderwood Village has been designed to allow residents to take ownership and responsibility for their local area and put the focus back into creating an enduring neighbourhood with a real sense of community spirit.
The Hub will be the focal point for many of the community's social events.
Hayliegh Beckles, marketing manager for the Yours Sustainable Community at Calderwood Village, said, "I am sure home-buyers will really appreciate the quality and ethos of the site. The opening of the Hub is the beginning of a positive and thriving community."
Calderwood Village embraces the Yours Sustainable Community principles of Good Homes, Good Jobs and Good Neighbours – making it a perfect location for new and growing families.
The first phase of Calderwood Village features 114 high-specification homes ranging from two-bedroom apartments to a selection of three, four and five-bedroomed terraced, semi-detached and detached family houses.
The impressive collection of homes will offer up to 100 per cent part exchange and up to 95 per cent mortgages available on selected plots.