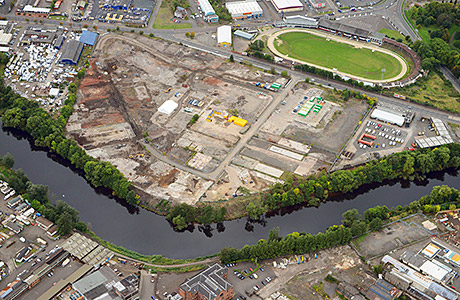 LAND remediation contractor and environmental specialist VHE has signalled its confidence in Scotland's construction industry by opening a new office in Cumbernauld.
The Scottish office will be headed by the recently appointed Alan McKillop as Contracts Manager and demonstrates VHE's commitment to further developing a presence in Scotland which has existed for a number of years and includes several local frameworks.
Managing Director, Steve Stiff said, "We feel there is real buoyancy within the region and a sense of excitement created by the Commonwealth Games. We are delighted to have played our part in the construction of infrastructure for the Games through our successful project for the site preparation works for the Athletes' Village. Our current site enabling works contract at Shawfields also provides key pedestrian linkages to the Games site."
Alan McKillop added, "VHE has been active in Scotland for many years but has never really fully developed its capability in the region. We are committed to increasing our presence in Scotland and I am looking forward to playing a key role in doing so. With projects like our work at Shawfield and recent successes at Dundee for Scotland Gas Networks, Loanhead for Midlothian Council and in Shotts for North Lanarkshire Council, we have developed a great base upon which to give our Scottish expansion some real momentum."
VHE has been successful in offering local employment and SME opportunities through Community Benefit initiatives, both required through contracts and also through voluntary arrangements.
VHE is one of the specialist operating companies of Renew Holdings which provides multidisciplinary engineering services to maintain and develop UK Infrastructure in the Energy, Environmental and Infrastructure markets.