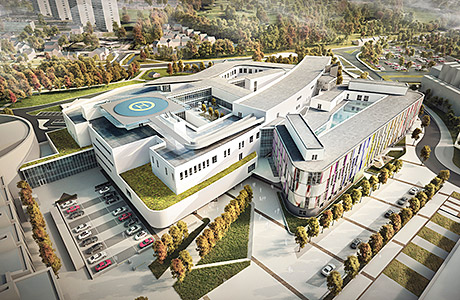 INTEGRATED Health Solutions Lothian have been chosen as the preferred bidder to design and build the new Royal Hospital for Sick Children and Department of Clinical Neurosciences at the Royal Infirmary of Edinburgh site.
The project will see services from the Royal Hospital for Sick Children, the Department of Clinical Neurosciences, currently based at the Western General Hospital, and the Child and Adolescent Mental Health Service from the Royal Edinburgh Hospital, brought together in a high quality, modern facility.
As part of the procurement process a legal standstill period is being observed and, following this, Integrated Health Solutions Lothian will work with NHS Lothian to finalise the details for the new building.
The Integrated Health Solutions Lothian consortium includes Brookfield Multiplex as the main contractor, Bouygues as facilities management provider and HLMAD as architects, with financial partner Macquarie Capital Group.
Construction work is expected to start in autumn this year, with the hospital becoming operational in the summer of 2017.
Susan Goldsmith, Director of Finance, NHS Lothian said, "The selection of a preferred bidder follows an extensive and thorough evaluation process. This announcement marks a major milestone in what is an extremely exciting project for the people of Lothian and beyond. The development will prove significant in shaping the future of care by bringing children's, maternity and adult services together on the same site."
The project is the first acute hospital facility to be procured under the Scottish Government's Non Profit Distributing (NPD) model and the NHS Lothian team have been working closely with Scottish Futures Trust and the Scottish Government to prepare for the procurement process.